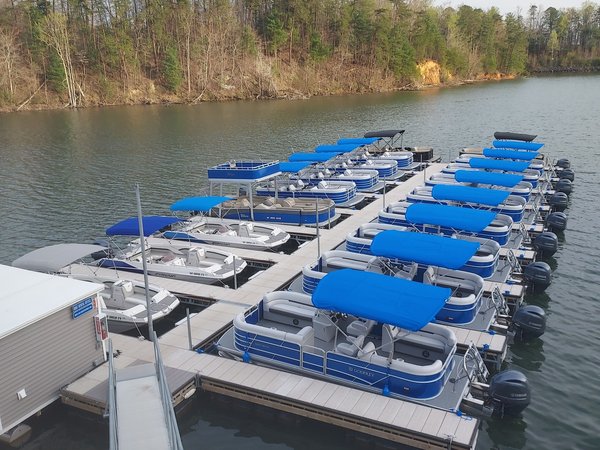 Located at Lake James Marina
Pick Up Location
---
Our floating rental office at Lake James Marina is now open! All rental pickups, drop-offs, paperwork, payments, and safety equipment will go through the floating office.
---
Please note daily rental times are 9:30am to 5:30pm. All boats must be picked up by 11:30am.

Located at the Lake James Marina
9066 NC-126, Nebo, NC 28761
*SHOW UP *HAVE FUN *LEAVE THE GAS TO US!!!!!!
Boat pre-filled with 25 gallons/half tank (fuel included in the final rental price)
We do not require our boats to be refilled at the end of rental period.
*IF customer requires more fuel during rental period there are several places on the lake to do so.  Customer is responsible for all fuel that they use beyond the pre-filled 25 gallons/half tank.
Boat & Jet Ski Rentals
Rental
Rate*
2022 Sweetwater Tritoon
150hp motor, Ski Tow Bar, 12 person capacity
from $399
Rent
2023 Double Waterslide B.O.B. * 25 people
140hp motor, two water slides, 10' WIDE 30' LONG,25 person capacity
from $850
Rent
Pet Friendly Boat
150hp motor, Dog Friendly, Ski Tow Bar, 12 person capacity 2022 tritoon
from $465
Rent
2021 Manitou Tritoon
150hp motor,Ski Tow Bar, Garmin GPS depth finder, 12 person capacity
from $399
Rent
2020 Water Slide Boat
115hp motor, Water Slide, Ski Tow Bar, 12 person capacity
from $515
Rent
'Tent on Toons' Houseboat

from $350
Rent
*Final rental price will vary with taxes and fees.
Reserve your Jet Ski or Boat Rental today on Lake James, NC!
We took out one of the BRAND NEW boats tonight and it was perfect. It was great to have the marina store open to provide us ice (since we forgot ours) and the walk to the boat slip on the new dock was easy and very stable. Henry and Eric took great care of us!! They even parked the boat for us when we got back! We will definitely be back 💙
Highly recommend!!! I just rented a boat for a lake day bachelorette party and it was amazing! There were buggies for us to use to haul all of our items to and from our car to the boat, which was very helpful. Henry & Eric were amazing. They were super helpful and accommodating. The boat was super clean and had a great radio system. The water slide was a hit. I can say 100% we made a great decision to rent a boat from them. Can't wait to do it again!
Exceptional day on the lake! Henry helped us out with a clean , roomy & well appointed pontoon boat. Loved the ability to enjoy our playlist & the Garmin GPS was a great help navigating around the lake. The boat was a 2021 model — perfect condition & looked new. We have rented from other outfitters in past years & this was by far our best experience on Lake James!